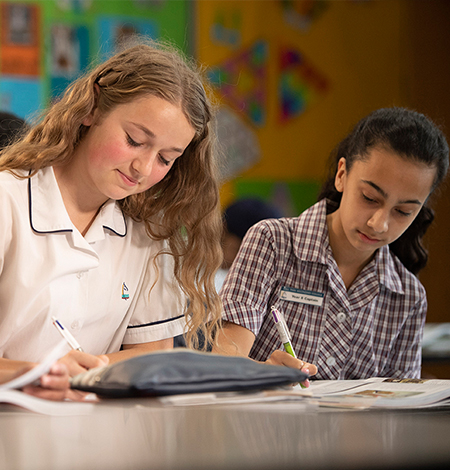 Middle and Secondary Years (Grade 6 to 12)
In the Middle School (Class VI to VIII) curriculum incorporates the emphasis on individual subjects as Science, Mathematics, Social Studies, English, etc. Collaborative learning is a regular feature at this stage, as children learn to work together, as well as independently.
SWS seeks to develop 21st century learning and life skills, language proficiency, leadership & organizational skills, critical thinking and creative skills, which in turn will enable the students to become successful global citizens. Sanfort provides exposure for Middle School classes to creative communication, linguistic comprehension, identifying, recognizing and applying varying sounds in different contexts, communicating through gesture as well as exploring and expanding thematic and environmental understandings.
The knowledge and skills gained during the Middle School years equip the students with a strong academic foundation and students at this stage can choose a set of subjects of their interest within the purview of the board of affiliation. Students in their Senior Secondary classes become more specialised in their academics and focus on their eventual career choices. The school offers a range of specialized subject to equip students for higher education. The curriculum for the classes I to VIII is followed as prescribed by NCERT and for classes IX to XII as prescribed by CBSE. School also organizes counseling sessions by the subject experts for the students, which assist them in selecting the stream as per their interest area.