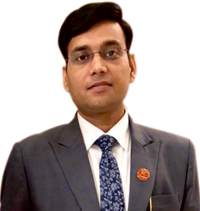 Mr. Dilip Kumar Mishra
CEO- Chief Executive Officer

A founding member and CEO of Sanfort Group of schools, Mr. Dilip Mishra has played a vital role in the establishment of Sanfort Network Nationally and Globally. Mr. Mishra brings with himself an outstanding Academic Record and 14 years of rich Industry Experience. A topper of his time, A Phd research scholar, he holds double master degree in M.Sc (IT) and he also holds a MBA degree in Marketing & HR specialization. Mr. Mishra has been associated with Sanfort Group of schools for the past 7 years. His expertise lies in product development, brand and media management as well as he is a specialist in Sales and Marketing. At Sanfort, he has been spearheading the organizational growth, formulating the marketing strategies and overseeing the management of the Institute.